Fort Smith Lawyers for Broken Bones After a Motorcycle Accident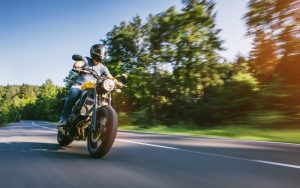 If you've been injured in a motorcycle accident in Fort Smith that was not your fault, you may be entitled to receive compensation. You should not have to be responsible for someone else's mistake. You need to speak with an experienced personal injury attorney.
We understand that this can be a frustrating and painful time. You may be facing a growing stack of medical bills and wondering how you will pay for them. This can be particularly distressing if you are currently out of work due to your injury.
Call the Fort Smith motorcycle accident lawyers of McCutchen Sexton Napurano – The Law Firm today at (479) 783-0036 to set up a free consultation to discuss your case. We believe your only job right now should be to focus on your recovery and healing. Let us put your mind at ease as we guide you through this difficult experience.
Types of Broken Bone Injuries
Most motorcycle crashes occur on brief trips that are shorter than five miles. Typically, the rider is traveling below 30 mph at the time of a crash. During a motorcycle crash, the rider can sustain virtually any type of broken bone injury. These can range from relatively minor to severe. Common broken bone injuries can include:
Broken collarbone
Fractured skull
Broken legs or arms
Fractured vertebrae
Broken wrists or ankles
Broken ribs
Broken hips
The type of broken bone injury is different in each case. It may be a closed or simple fracture, meaning that the bone itself is broken, but it did not break the skin. A bone may be shattered into many small pieces. It may be an open or compound fracture, meaning that the bone has penetrated the skin. This also carries a risk of infection from the additional open wound.
Diagnosis and Treatment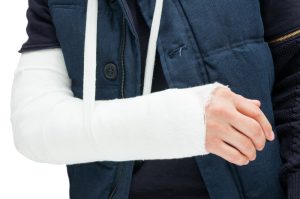 After a motorcycle crash, it's critical that you receive prompt medical attention. This needs to occur as soon as possible, including at the scene of the crash, if required. You should not try to move yourself or others. Once first responders have examined your condition, they will tell you what to do next. Attempting to move yourself or another potentially injured person can lead to even greater injury.
Only a doctor can correctly diagnose broken bone injuries. You may feel that you are not hurt and that no medical treatment is necessary. However, some fractures may not immediately present symptoms. Your doctor will perform a variety of tests, including X-ray imaging, to determine the extent of any injuries.
Treatment may include immobilization, setting the bones, and surgery. Some injuries may require installing metal pins to hold parts of the bone together. Some cases may require physical therapy, prescription medication, and ongoing medical care. Depending on the severity of the break, long-term complications may result.
This is especially true if the initial injury also caused nerve damage, damage to soft tissue, or damage to internal organs. Additional complications may include chronic pain, arthritis, infections, and limited range of motion. Extreme cases may require replacement joints, amputation, or prosthetic limbs.
Compensation
The process of pursuing compensation after an accident can be difficult to navigate. Insurance companies are known for doing whatever they can to avoid paying money. If they do have to pay, they will look for ways to pay as little as possible. They have legal teams on staff who exist to reduce liability for the insurance company.
Insurance adjusters often use misleading tactics that can be confusing for the injured person. One way they may do this is by trying to record phone conversations. They may attempt to get you to make a statement admitting blame or fault. It may seem reasonable to speak with an insurance adjuster. This can be especially true if you feel you have nothing to hide. However, you should not speak with them until you have spoken with a motorcycle accident attorney who can help you with your insurance claim.
Another tactic that insurance companies use is offering settlement amounts that are too low. They are hoping that you will accept an unfair offer. There are many potential components of compensation. These may include:
    Medical bills
    Loss of enjoyment of life
An experienced attorney will be able to spot a lowball offer right away. When you select McCutchen Sexton Napurano – The Law Firm to represent you, we will advise you which offers are too low. We will fight to pursue the full amount to which you may be entitled. We will handle all negotiations in your case. Most cases are settled outside the courtroom, but in the event that negotiations are unsuccessful, we will be ready to go to trial.
Why Choose McCutchen Sexton Napurano – The Law Firm?
We have built our reputation on relationships, trust, and respect. Our attorneys have helped many other people just like you who found themselves injured due to no fault of their own. We know how to face the big insurance companies and get results for our clients. Take it from our previous clients who gladly share their testimonials.
Our legal team will keep you informed each step of the way, so you know what to expect. We treat each client the same way that we would want to be treated. You can trust that McCutchen Sexton Napurano – The Law Firm has your best interests in mind. We have provided answers to the most common questions we receive on our FAQ page for your information.
We work on a contingency basis, which means we only get paid if you do. We do not charge any fees at all unless you receive compensation. You can rest easy knowing there are no upfront costs.
Contact McCutchen Sexton Napurano – The Law Firm Today
If you've been hurt in a motorcycle accident in Fort Smith that was caused by someone else, you may be entitled to financial compensation. You need an experienced attorney who will fight to pursue the maximum amount that may be legally yours.
Call us today at (479) 783-0036 to speak with a McCutchen Sexton Napurano – The Law Firm motorcycle accident attorney. You can also submit a contact form online, and we will be in touch as soon as we are able. We are ready to discuss your case with you.
You owe it to yourself to understand your options so you can make the best decision for your future. Let us take over your case so you can focus on what matters most. Call us now.