Medical Expenses from a Car Accident in Arkansas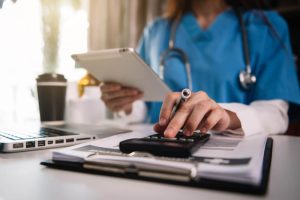 Were you involved in a car accident due to someone else's negligent actions? Did you suffer injuries requiring medical care and face expensive medical expenses? If so, contact the Fort Smith car accident lawyers of McCutchen Napurano - The Law Firm immediately to learn about your options for paying these bills. You could receive compensation from the at-fault party for your out-of-pocket costs.
Typically, an injured victim pays their own medical expenses following a car crash. Even if liability is clear and another driver should be financially responsible for your incurred costs, it could take some time before you receive an insurance settlement to compensate you for your losses.
In the meantime, you need to find a way to pay for the bills you receive, so they don't go to collections. Many accident victims face significant financial strain. Hospitalization, physical therapy, prescription medications, and other forms of treatment can be expensive. If you can't afford your bills, you could end up in debt.
Fortunately, you might have various options to choose from to cover these expenses while you're recovering from your injuries and waiting for compensation from an insurance claim or lawsuit.
Call McCutchen Napurano - The Law Firm at (479) 783-0036 today if you were injured in a car accident that wasn't your fault and want to learn more about how we can help you compensate for your medical expenses and hold the at-fault driver accountable for the harm they caused.
Common Medical Expenses Following a Car Accident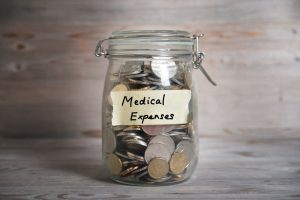 There's a wide range of medical expenses a person can incur after a car crash. Even minor injuries might require medical attention, resulting in thousands of dollars in bills. An ambulance ride alone can be as much as $500 with insurance or a couple of thousand dollars out of pocket.
The most common types of medical expenses resulting from a car accident include:
Hospitalization
Ambulance transport and services
Radiology tests
Bills from each medical provider
Laboratory testing
Physical therapy
Primary care physician
Rehabilitation
Prosthetic devices
Surgical procedures
Chiropractic care
Pain management services
Assistive medical devices
Emergency room physician
Prescription drugs
Home health nurse
Out-patient services
Counseling
Medical equipment
Necessary future medical care
Healthcare professionals expect full payment of all services rendered. Paying your bills can seem overwhelming, especially if you don't have health insurance. Even if you file a claim with the at-fault driver's insurance company, it could be months or even years before you recover a settlement. In some situations, the insurance carrier denies the claim, which could leave you with limited financial options.
Below are the most common methods of paying medical expenses after a car accident.
Health Insurance
If you have private health insurance, Medicaid, or Medicare, you can enter the information at each initial doctor's appointment so the office can submit your bills directly to the insurance carrier. Depending on your policy, you might have to pay a small co-pay at each visit or meet your deductible before the insurance company covers your bills.
After submitting a claim for your medical expenses, the insurance carrier will review it to determine whether they will cover the services or deny the claim. If they approve it, they will likely send an explanation of benefits letter, indicating the cost of the treatment and how much they covered.
If they deny your claim, you will receive a bill you will have to pay for the treatment you received. Some insurance carriers don't cover specific medical services, such as surgical procedures or radiology testing.
MedPay Coverage
MedPay (medical payments) is an optional coverage you can include in your policy when you purchase auto insurance. Although it's not a legal requirement, it could benefit you greatly after a car accident.
MedPay comes with a minimum limit of $5,000. That means the insurance company must pay for your medical expenses up to $5,000. You have the option to choose a higher limit if you want, but you would have to pay a higher monthly premium.
MedPay pays upfront for initial medical bills received after a car accident. These costs can include:
Ambulance services and transport
Emergency room visit
Laboratory and diagnostic testing
Overnight hospitalization
Prescription medications
Physician bills
Ongoing treatment up to the limit
If the medical provider or facility has your MedPay details, they can send your bills to your auto insurance company for payment. Once you reach the limit on your policy, financial responsibility for your medical expenses will go back to you or your health insurance carrier.
Medical Liens
Many hospitals, doctor's offices, and other healthcare professionals understand the difficulty accident victims face while healing their injuries. It's often a challenge to come up with the money to pay medical bills. Some people are waiting on an insurance settlement or favorable jury verdict in a lawsuit. Until then, these patients don't have the means to pay for their incurred costs.
You could potentially ask your doctor to place a hold on your account until you resolve your car accident case. This typically involves a lien you sign promising to pay your medical expenses with the compensation you receive from your case. You can continue to treat your injuries without worrying about your bills going to collections.
Why You Need a Car Accident Lawyer
Seeking compensation after a car accident can be a complicated process to handle alone. You need an experienced lawyer by your side to guide you.
At McCutchen Napurano - The Law Firm, we know how to review insurance policies to determine what coverage is available and whether it can compensate for an accident victim's medical expenses.
You can count on our legal team to file a claim on your behalf and communicate with your doctors about your pending case. We can follow up with your health insurance company regarding payments of your bills and negotiate a lien agreement with medical providers you can't afford to pay upfront.
Contact Us
If you were injured in a car accident and need legal representation and assistance handling your medical expenses, do not hesitate to contact McCutchen Napurano - The Law Firm. We will tirelessly work to hold the negligent motorist responsible for their misconduct and try to reach a favorable outcome in your case.
Call us at (479) 783-0036 for a free consultation with one of our dedicated and experienced car accident attorneys.