Fort Smith Lawyers for Burns and Road Rash After a Motorcycle Accident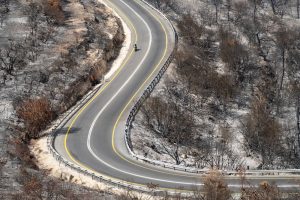 Motorcyclists have very little protection. After an accident, a motorcyclist could have significant injuries. Wearing a helmet and proper safety gear can reduce this potential risk. During an accident, the likelihood of road rash or burns is higher on a motorcyclist's back and extremities.
Protective gear with plastic armor can help reduce impact and offer abrasion resistance. If you or someone you loved was in a motorcycle accident that was not your fault, you may be entitled to compensation.
The Fort Smith motorcycle accident attorneys of McCutchen Napurano - The Law Firm have experience working with motorcyclists who have been injured because of someone else's negligence. Our experienced team is ready to protect your rights and fight for fair compensation. Call the office of McCutchen Napurano - The Law Firm today at (479) 783-0036 to schedule your free consultation.
Types of Burns Injuries After a Motorcycle Accident
A motorcyclist can experience a thermal burn after a motorcycle accident when there's been a fire or if the skin was exposed to metal parts on the bike that became hot. Burns vary in severity. Doctors classify the severity of the burn based on the depth of the burn, and whether it penetrated fat, muscle, or has gone down to the bone. Burns are classified into three different levels:
First-degree burn: This burn only affects the outer layer of skin. These cause significant pain, redness, and swelling since many of the nerve endings are exposed.
Second-degree burn: The burn affects the outer layer and the underlying layer of skin. You notice blistering, swelling, pain, and redness. They may cause scarring. The medical terminology for these types of burns is "partial-thickness burns" since they do not go deeper than the skin.
Third-degree burns: These are called full-thickness burns and go down to the innermost layer of skin and to the fat level beneath. The area will have a white, brown, or black appearance, and there will likely be no pain involved since the nerve endings have been destroyed. These burns may involve the muscle or go down to the bone.
Motorcyclists can experience complications from burns after a motorcycle accident. These can include infection in the wound that can progress to sepsis. Sepsis is an infection that affects the entire body and has a significant mortality rate of up to 33 percent in North America.
The risk of death from burns is related to the degree of the burn and the percentage of the body that is affected. Unless a motorcyclist is involved in a fire during the accident, most burns are fairly localized. They may present a significant risk of disability, but the potential risk of death from the burn is not high.
Road Rash Injuries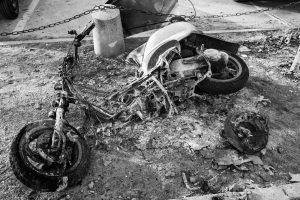 Road rash is another term used to describe a road burn injury that is not thermal but friction related. Since motorcyclists are not secured using a safety restraint, they are easily thrown from the bike during an accident. When the skin comes into contact with a solid surface, the resulting injury can be very serious.
Road rash from a motorcycle accident can lead to the need for immediate emergency medical treatment and hospitalization. Most road rash damage is from avulsion injuries. These happen when all the layers of skin are stripped away, and muscle and fat can be visible. This is also called a "full-thickness" wound and may require skin grafts that result in significant scarring.
If the motorcycle or a car lands on the cyclist, it can result in crushing injuries when a limb gets caught between two objects. If this occurs as the bike and cyclist are sliding across the pavement, it can increase the depth of the road rash.
Road rash injuries are painful and often take up a significant percentage of bodily area. They may initially require surgery to clean the wound under anesthesia and may require secondary surgeries in the future for grafting.
These injuries also result in significant medical expenses and often confusing paperwork for insurance companies. This makes recovery from the accident even more challenging. The attorneys at McCutchen Napurano - The Law Firm understand the financial, physical, and emotional burden that happens after a significant motorcycle accident. Don't let someone else's negligence destroy the life that you have built for yourself and your family. Hire McCutchen Napurano - The Law Firm and get the compensation you need to put your life back together.
How to Prevent Road Rash
You can save your skin during a motorcycle accident when you are wearing the proper safety equipment. The only safety a motorcyclist has during an accident is what they are wearing because it's the only thing between them and a hard road.
Based on a 5-year study that gathered data between 2013 and 2017, helmets could reduce eight percent of minor injuries and up to 37 percent of rider deaths. A proper helmet must meet Federal Motor Vehicle Safety standards and should have the logo of the organization stamped on the shell or the inside of the helmet.
Motorcycle jackets are great to wear in the spring and fall, but you may be tempted to take them off during the hot summer months. Your jacket is your road armor because it protects your elbows, shoulders, and spinal cord. Good jackets have plates located at common points of impact, such as your joints and along your spinal column. The greater the thickness, the better the abrasion resistance.
During the summer months, some motorcyclists wear an armored shell that can be worn over a long shirt and provides protection along the chest, upper back, and spinal column. True motorcycle pants will have great ventilation and comfort as well as armor and protection against road rash.
A sensible pair of riding boots can help protect your ankles, reduce flexion and guard against abrasion. Finally, don't forget motorcycle gloves. This is not the place to skimp because the gloves need to be pliable and flexible to give you dexterity yet tough enough to withstand severe impact.
Your natural reaction when you fall is to extend your hands and arms. Without protection, you could have permanent injury to your hands and manual dexterity.
Besides your gear, there are few other things you can do to minimize your risk of having a motorcycle accident. The best type of motorcycle accident is the kind that doesn't happen.
What Type of Compensation Is Available?
After a motorcycle accident that was not your fault, you may be entitled to compensation from the at-fault party's insurance company. If we cannot negotiate fair compensation, we are prepared to litigate your case in court.
Compensation may include medical expenses. These are expenses related to the injury you incurred during the accident. Medical expenses can include doctor's visits, skin grafts, other surgical procedures, and rehabilitation to help you regain your previous level of function.
If your injuries do not allow you to return to work immediately, you may also be entitled to recover damages for lost wages. If the injuries are so significant that you cannot return to your previous job, you may be entitled to compensation that helps pay for job training.
In some cases, you may also be entitled to non-economic damages. This is compensation for injuries such as pain and suffering, emotional distress, or loss of enjoyment of life.
Contact McCutchen Napurano - The Law Firm Today for a Free Consultation
If you have been injured in a motorcycle accident that wasn't your fault and require an experienced legal representative, call the motorcycle accident attorneys of McCutchen Napurano - The Law Firm at (479) 783-0036 today. Our attorneys have over 25 years of experience as tireless advocates for injured individuals. Our clients say we are professional, vigilant, caring, and patriotic.
Schedule your free initial consultation. We'll talk about the details of your case and explain our process of negotiating with the at-fault party's insurance company or litigating your court case in court. If you do not win, then you do not owe us anything. Period. You have nothing to lose and everything to gain. Contact us today to get started on your case.