Young Leaders Honored in Distracted Driving Awards Ceremony
Posted on Tuesday, April 19th, 2016 at 12:56 pm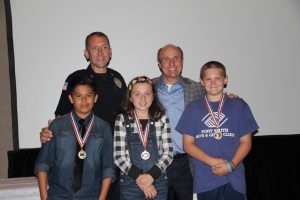 The McCutchen Law Firm is proud of the young leaders who participated in our "Distracted Driving Awards Ceremony" on Thursday evening. Pictured from left to right is Custodio, Trinity, and Shane. Custodio won the overall award in the DD drawing contest, and his drawing was placed on a shirt honoring the winner. Another participant, Trinity, won 2nd place in the same contest. In addition, Shane also participated in a basketball event at the ceremony, making a tremendous contribution to the team.
The event was made even more special by the participation of the FSPD and the Southern Dixie Belles, who work constantly to keep our children and roads safe. Pictured above is Captain Danny Baker of the FSPD, who attended the event along with other members of the department. Also in attendance were the Southside Dixie Belles who used their safety program "Kick the Distracted Driving Habit" to educate the Fairview and Cavanaugh sixth grade students of the importance of staying alert on the roads.
The McCutchen Law Firm would like to thank the officers of the FSPD and the Southside Dixie Belles for making our roads a safer place. We would also like to thank the principals and teachers at Fairview and Cavanaugh elementary schools for their tremendous help in this event. Finally, thanks to Debra Gann of my office for making the first annual distracted driving safety campaign a success. This event truly proved that our kids are in the best of hands!