Joey McCutchen and William Buckley Attend Arkansas Chiropractic Physicians Association Convention
Posted on Monday, October 5th, 2015 at 8:31 pm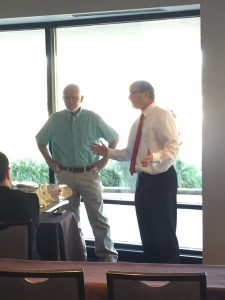 On October 2, Joey McCutchen and William Buckley traveled to Little Rock for the Arkansas Chiropractic Physicians Association Convention. At the convention, Joey and William gave a presentation introducing chiropractors to the legal process and giving them the tools they need to be effective in helping their patients get the compensation they need and deserve. Joey and William explained how best to approach depositions and trials and how the things they do even in their offices can help their patients receive the best outcome possible in a legal case.
Additionally, Ron Tribell was at the convention and spoke about the graphics he makes of spinal cord injuries. Ron is a medical artist with Axis Arts who regularly provides artwork for the illustrations that the attorneys at McCutchen Napurano - The Law Firm use in court. His work has been published in numerous medical textbooks and journals, and has even served as the cover art for two different prominent medical texts.
At McCutchen Napurano - The Law Firm, we believe that trial lawyers and chiropractors can be great partners in helping injured people and we are always excited about improving that relationship.