Posted on Monday, August 1st, 2022 at 12:41 am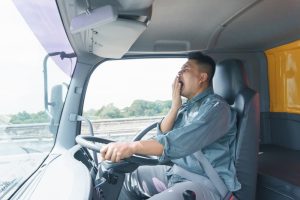 Truck driver fatigue is one of the most frequent causes or contributing factors to truck crashes. Fatigue or drowsiness can significantly impact a truck driver's ability to safely operate their vehicle. Driving a large truck or 18-wheeler requires a truck driver's full attention and skill. Unfortunately, due to the demands of their jobs, truck drivers can easily become fatigued.
Common Causes of Truck Driver Fatigue
Arguably, the most frequent cause of truck driver fatigue is related to the long hours that drivers must work. Drivers can spend up to 14 hours a day on duty and up to 11 hours each day behind the wheel. Drivers on long interstate routes may have to sleep in their truck's sleeper cab, which may provide poor quality sleep. Although the number of hours drivers can spend on duty and behind the wheel is limited by federal regulation, and they are required to have certain breaks and off-duty periods, the demands of truck driving can still lead to fatigue.
Other common causes of truck driver fatigue include:
Illness, as truck drivers may be required to work duty shifts while dealing with colds or the flu
Medications, including over-the-counter cold medication or prescription drugs that can induce fatigue or drowsiness as a side effect
Drug or alcohol intoxication, as some truckers may use alcohol as stress relief or drugs to provide stimulation during long shifts
Unusual working hours, since some drivers choose or are ordered to drive during nighttime hours to avoid daytime traffic. However, people can become easily fatigued during the night, even if they manage to get sleep during the daytime
How Fatigue Affects Driving Ability
Fatigue can impair a driver's ability to safely operate their vehicle in many of the same ways that drug or alcohol intoxication can affect a driver. Some of the most important effects of fatigue on driving ability include:
Fatigue can make a truck driver drowsy, which may eventually lead to the driver falling asleep or engaging in microsleep (periods of unconsciousness lasting a few seconds). This may result in the driver's truck drifting into another lane or into oncoming traffic, running off the road, or the driver failing to notice the movement of other vehicles around them
Fatigue can also impair reflexes, which can result in truck drivers reacting more slowly to emergencies and conditions on the road
Fatigue can also alter perception, which can make it difficult for a truck driver to recognize what is going on around them on the road
Finally, fatigue can also lower inhibitions and impair judgment and decision-making skills. That might include a truck driver taking longer to reach a decision, or a driver engaging in reckless behavior like excessive speeding, darting between lanes, or consciously disregarding traffic signals
What to Do After a Fatigued Driving Truck Accident
After you have been involved in a truck accident with a fatigued truck driver, you should take steps to protect your rights to receive compensation for your injuries and losses. These steps include:
Reporting the accident to law enforcement to have officers come to the scene to investigate and prepare a police accident report
Getting the name, contact, and employer information of the truck driver
Taking photos and video of details of the accident, including vehicle damage, skid marks or debris on the road, traffic signals, and weather/road/traffic conditions. Do NOT post anything about your accident online.
Seeking medical attention as soon as possible, including being seen by paramedics at the scene and following up with a doctor who can diagnose the injuries you suffered in the accident
Notifying your insurance company of the accident so that you may be entitled to certain coverages under your policy, such as PIP, MedPay, or uninsured/underinsured motorist coverage
Keeping copies of documentation of your expenses from the accident, including medical invoices, vehicle repair bills, and your pay stubs or income statements if you miss time from work due to injuries
Contacting a truck accident lawyer as soon as possible to get started pursuing your claims for compensation for the losses that you suffered from the crash
Contact McCutchen Napurano - The Law Firm for a Free Consultation with an Experienced Truck Accident Attorney
If you were injured in a truck crash that was caused by a fatigued truck driver, get the experienced legal representation you need to demand full compensation for your expenses and losses. Call the Fort Smith truck accident attorneys of McCutchen Napurano - The Law Firm today at (479) 783-0036 for a free, no-obligation case evaluation. You can discuss your options with a seasoned truck accident lawyer, and let us advise you about your next best steps.