Joey McCutchen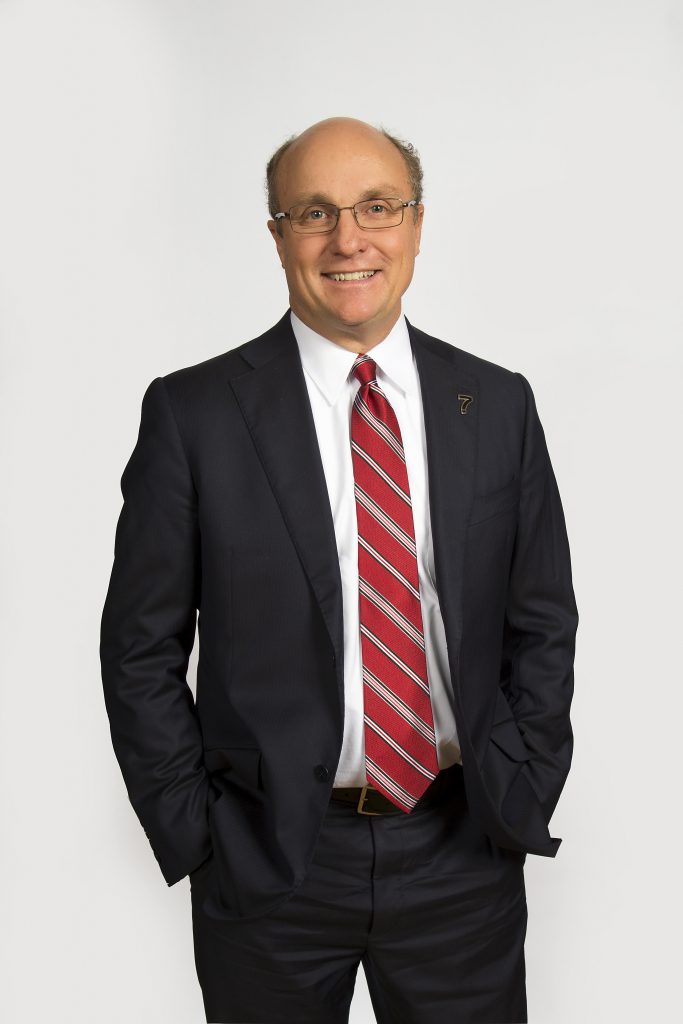 Joey McCutchen received a B.A. in Zoology from the University of Arkansas at Fayetteville. He went on to earn a J.D. from the University of Arkansas (Fayetteville) Law School and a Masters of Theological Studies from Harvard University. He is licensed to practice law in both Arkansas and Oklahoma and actively practices in both states.
In 1991, he established the Law Office of Joey McCutchen in Fort Smith, Arkansas, founded on two unbending principles: first, the law firm would only represent injured consumers and would never represent insurance companies or big business; and second, that every case is taken and prepared as if it is going to go to trial. Because of these unbending principles, McCutchen Napurano - The Law Firm is able to settle most cases quickly, fairly, and for significant value.
Over the years, Joey and The Law Firm have consistently received significant settlements and jury verdicts for their clients. Joey is credited with winning one of the largest medical malpractice cases in Sebastian County history. He also won one of the largest automobile accident judgments in Sebastian County history. Joey, along with his team, received what is believed to be the largest verdict in Crawford County history in an automobile accident case.
In 2006, Joey founded NextLevel Sports, a sports marketing and representation agency. He actively represents Division I NCAA coaches and athletic directors. As part of NextLevel Sports, he and his partner, Will Reece, conduct an annual Collegiate Athletics Leadership Symposium ("CALS") for collegiate athletic directors throughout the United States.
Joey is on the Arkansas Trial Lawyers Association (ATLA) Board of Governors, which provides leadership for the organization and for over 800 trial lawyers in Arkansas. He was the recipient of the 2013 ATLA Citizen Merit Award, which is given to a lawyer who has made an important contribution to society by either fostering greater public understanding of the rights and liberties that ATLA seeks to preserve, or furthering the public's knowledge in regard to the prevention of injury. Additionally, Joey has received the ATLA "Champions of Justice" Platinum Founder Award and the Civil Justice Advocacy Award for Outstanding Service to the Legal Profession and the Citizens of Arkansas for his commitment to preserving the civil justice system and consumer rights. Joey has been praised for his "Good Works" in the ATLA Magazine, and facilitated continuing legal education seminars for Arkansas trial lawyers in areas involving automobile accidents and personal injury cases.
As the founder of Arkansas Consumer Advocates, a consumer advocacy group, he is active in the fight against governmental and corporate corruption. Joey has worked tirelessly to defend and educate the public and legislators on the importance of protecting the Seventh Amendment and defeating Tort Reform. In the 2013 Arkansas Legislative Session, Joey spent more than six weeks at the State Capitol, tirelessly fighting against the adoption of SJR-5, which would had led to the taking away of the rights of injured Arkansans and which would have been a windfall for big business and insurance companies.
He is a member of the Bar of the State of Arkansas and Oklahoma, the American Association for Justice, and the American Bar Association. The American Association for Justice's National College Advocacy recognizes him as an Advocate.
Joey is a current Board Member of the Fellowship of Christian Athletes. In 2010, he was honored by being inducted in the Fort Smith Boys Club Hall of Fame. He is also a charter member of the Fort Smith Boys and Girls Club Alumni Association and was the organization's first president. For over 20 years, he has been a coach, mentor, and sponsor with the Fort Smith Boys Club. His other previous public service includes a presidency and board membership with the Fort Smith Board of Education from 1992 to 1998, presidency and membership on the Montessori Board of Education, presidency and board membership of the Fort Smith Boys Shelter, and board membership with the Fountain of Youth Foundation which is an independent living center for the elderly.
As a champion of safety, Joey has spoken to thousands of elementary school children about internet and neighborhood safety through the "Take 25" Program, a program sponsored by the National Center for Missing and Exploited Children. Joey has promoted the Take 25 Program. He took the program statewide when, through his leadership, the program was instituted by the Arkansas Trial Lawyers Association. In 2011, contributions from trial lawyer volunteers helped the Arkansas Take 25 state program to rank among the highest in the nation.
Joey has organized and sponsored relief efforts for disasters resulting in hundreds of tons of food and supplies being donated to victims of natural disasters, such as the 2013 tornado in Moore, Oklahoma, the 2010 tornado in Cincinnati (Washington County), Arkansas, and the 2010 Haiti earthquake. He and McCutchen Napurano - The Law Firm also sponsor an annual free child seat safety event, where the firm provides free child safety seats and partners with the Fort Smith Police Department to ensure correct installation of child safety seats and provide instruction on child seat safety guidelines as part of McCutchen Napurano - The Law Firm's Project Safety Campaign.
The Law Firm, and Joey have had their legal accomplishments discussed in the book, "The Keenan Edge", and Joey was a contributing authority to the book "Reptile in the Mist and Beyond" that discusses the mechanism by which people are severely injured in low-speed collision cases (where insurance companies claim nobody could possibly be hurt), and the importance of preserving our Seventh Amendment rights to trial by jury.
Joey's family heritage is closely tied to Western Arkansas. The McCutchen family took up residency in Scott County, Arkansas in 1871. His paternal grandfather, Hubert "Doc" McCutchen, was a prominent Dentist in Mansfield, Arkansas for over 50 years. His maternal grandfather, Gene Williamson, was the owner and operator of a service station in Greenwood, Arkansas for over 50 years as well. Joey's father, Joe McCutchen, is a retired pharmacist and owner and founder of Joe McCutchen Pharmacy, later known as McCutchen Health Services in Fort Smith. Joey, and his wife Tara who passed away in March 2017, have two daughters Elizabeth and Victoria who attend college.